Back to top
Holiday Shipping in Newburgh, IN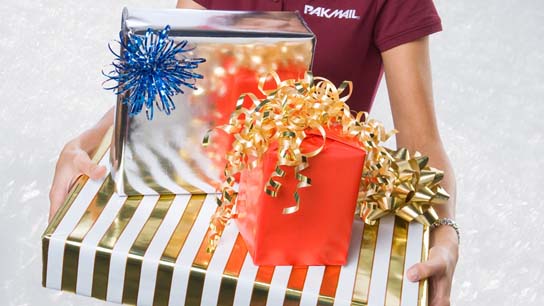 Why Choose Pak Mail for Your Holiday Shipping Needs?
The holiday season is kicking into high gear and you're probably ready to start spreading love and joy to all your friends and family members. Pak Mail of Newburgh thrives on getting your gifts, presents, shipments and cards where they need to go throughout the holiday season. We know how important it is to you to have a partner you can trust with your presents, important packages, and holiday cards. Our team provides you with reliable and stress-free holiday shipping.
Pak Mail of Newburgh excels at meeting your packing and shipping needs, especially when it comes to holiday shipping. Here are a few reasons to make us your first choice:
Expertise You Can Trust
Pak Mail brings years of experience in the logistics and shipping industry as your reliable partner to meet your holiday shipping needs. We understand how important it is for your holiday packages to arrive on time and in perfect condition.
Worldwide Shipping
Whether you need to send a package across the state or around the world, Pak Mail has domestic and international shipping services to ensure your holiday cheer makes it safely to its destination.
Comprehensive Services
Do you need the package there tomorrow? Or do you have time? We have a variety of shipping options, such as express delivery, ground shipping, and international shipping. You choose the ideal option for your timeline and budget.
Packing Solutions
Pak Mail of Newburgh provides you with expert packing services, including the necessary packing material to keep your gifts and packages safe and secure during their holiday transport.
Secure Handling
Your holiday shipments are valuable, and we handle them with the utmost care and security to protect your items during transit.
Tracking and Coverage
Stay in the know with package tracking, and rest easy knowing your items are protected with coverage options for added peace of mind.
Holiday Shipping Deadlines*
Each carrier has its own holiday shipping deadlines that tend to change from one year to the next. It's always a good idea to get the most recent information by checking with the specific carrier. Here's a look at some general guidelines for carriers during the holiday season:
United States Postal Service (USPS): USPS offers several levels of service:

Domestic Standard Shipping (First-Class Mail and Priority Mail): Mailing packages a week before Christmas Day (December 25) is the normal timeline for USPS. Please note that the service and destination may affect these dates.
USPS Retail Ground (formerly known as Parcel Select): As the least expensive option offered by USPS, it has a longer holiday shipping time. Plan to send your packages in early December.
Priority Mail Express: For domestic delivery, you can use this service up to a few days before Christmas.

United Parcel Service (UPS): You can find the holiday shipping deadlines for Ground, 3-Day Select, 2nd Day Air, and Next Day Air services on the USPS website.
FedEx: For their Ground, Home Delivery, Express Saver, 2Day, and Standard Overnight services, FedEx displays the holiday shipping deadlines online each year.
DHL: For international holiday shipping, DHL Express provides more deadline information on its website.
The holiday season brings increased demand and challenging weather conditions that can impact delivery times for all the major carriers. If you want your holiday packages to arrive on time, ship them days before the carrier's recommended deadline. You might also consider expedited or express services for last-minute gift-giving.
*Check specific carrier websites for 2023 holiday shipping deadlines
Make Your Holidays Merry and Bright with Pak Mail
Pak Mail strives to make your holiday season joyful and hassle-free. Stop by or call one of our locations to get your holiday shipping started. Our friendly and experienced staff members can meet your holiday shipping needs. Holiday shipping doesn't have to dampen your holiday spirit. Rely on Pak Mail to get your packages and greetings there before the holiday. Contact us today.