Back to top
Fine Art Shipping in Newburgh, IN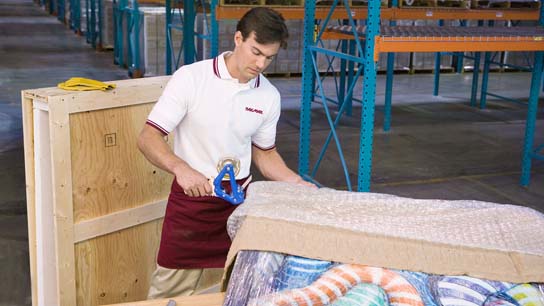 Ship Collectibles, Fragile Items, and More
Pak Mail of Newburgh has earned a reputation among the art community as a preferred crating, custom packing, and shipping services provider. For over 30 years, Pak Mail has been the premier choice for sellers, private collectors, local artists, galleries, auction houses, and museums to handle all aspects of the crating and shipping of their fine art. We work directly with museum curators, art galleries, artisans, and auction houses to ship artwork around the world. We provide on-site pick-up and packing services, and use state-of-the-art software to determine the best packing solution based on the value, size, fragility and destination of the piece of art. Whether you're shipping domestically or internationally, Pak Mail uses packaging and crating materials that meet all standards. We are the shipping solution for commercial and non-commercial art shipping worldwide by land, ocean, and air. Our art packing and shipping professionals evaluate your item's fragility and create custom packing solutions to ensure its safe arrival. We pick up and deliver with white-glove service, construct custom packaging with appropriate internal protection, and select secure art shipping methods for high value and one-of-a-kind items.
Ceramics
Glass
Paintings and drawings
Pottery
Sculpture
Textiles
Mixed media
---
Preferred Shipping Solution for online purchases of fine art from The Agora Culture.

Pak Mail provides shipping estimates on any fine art sold through The Agora Culture's online portal, and the packing and transport of each piece will be handled by any one of the over 200 nationwide Pak Mail locations.
Contact a Pak Mail Store Today
For information about our art shipping services, contact your local Pak Mail store.
From Our Commercial & Small Business Customers
When Canfield Scientific needed a centralized freight management partner, Pak Mail fulfilled. From disassembly and custom packing to logistics and nationwide shipping, Pak Mail's custom freight services get Canfield Scientific's sensitive medical systems where they're needed most.