Back to top
Military Shipping in Austin, TX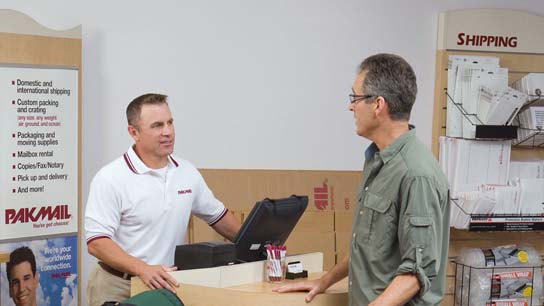 Shipping packages like letters, art, gifts, and books to military personnel can be challenging when working through security protocols, customs regulations, and each country's specific import rules.
As experts in packing, shipping, crating and freight handling, Pak Mail in Austin, TX can help businesses and individuals circumvent the complexities of military shipping.
Shipping to an APO/FPO Address
Pak Mail regularly prepares shipments to APO/FPO military addresses. The logistics experts at Pak Mail will pack your shipment to the required military standards. Whether it's delicate electronics, fragile art, or personalized gifts, we have the proper packing supplies and processes for your package.
How to Address APO/FPO Mail
Sending APO/FPO mail requires precise addressing. Otherwise, the mail could be routed to the incorrect location or recipient.
The address will need to begin with the recipient's name and rank. You will then proceed with the recipient's unit and assigned box number. Once these steps are complete, you will then need to list the appropriate military postal code, which would either be APO or FPO in place of the city. Make sure to add the correct state abbreviation (AA, AE, or AP) and a valid ZIP code.
Here is an example of how to address your APO/FPO mail:
CPL. FIRST LAST NAME
UNIT XX, BOX XXX
FPO, AA, XXXX-XXXX
How to Ship to APO and FPO Locations
Shipping gifts, care packages, and other valuables to your loved ones is a straightforward process—all you need to do is follow the correct procedure.
Make sure to pack your shipment securely and address it using the proper guidelines listed above. You will then need to visit a reliable shipping center, such as Pak Mail, for further guidance.
Our packing and shipping experts will examine your packing or pack the items for you, provide knowledge about customs documentation and regulations, and ensure it complies with shipping guidelines.
Delivery Time for APO and FPO Locations
On average, mail can take 3-15 days to reach its intended recipient. However, delivery speed will depend on the distance involved, the destination country's regulations, and the items being shipped. Moreover, the time for delivery can depend on the current operational status at the recipient's military installation. Pak Mail's military shipping experts can give you an estimated arrival time for your specific shipment.
How Much Does it Cost to Ship Military Mail?
Shipping military mail through the USPS is charged as domestic mail. Your military shipping company will provide a quote before shipping.
Shipping Military Mail with Pak Mail
Pak Mail is a premier provider of military shipping services. We offer a full range of services, including packing, crating, shipping, and freight handling. Unlike regular shipping companies, we also understand the intricacies of military logistics.
Contact us today
!