Back to top
Luggage Shipping Services in Austin, TX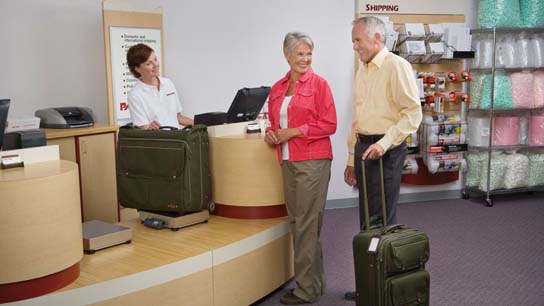 Take the Hassle out of Traveling
Almost all airlines charge extra for checking luggage these days. On top of that, the changes in restrictions for carry-on items, checked baggage, and security may cause you unnecessary aggravation by limiting what items you can travel with, as well as adding time for security and collecting baggage at your final destination. Do any of the following apply to you?
Too many bags to check / too expensive to check all your bags.
Too large of an item to check.
Heavy items are too difficult to manage.
Want an easier travel experience.
Too fragile or valuable of an item to check.
Privacy - don't want someone going through your bags.
Traveling with golf clubs, ski or snowboard, or snorkel equipment.
Want to put value coverage on your items.
If so, you should look into Pak Mail's travel and luggage shipping services to make your vacation or business trips easier. We can ship luggage to your destination ahead of time, so that it is already there when you arrive. Pak Mail of Austin makes travel and luggage shipping easy, convenient, and secure.
Contact Pak Mail of Austin Today
For more information about our travel and luggage shipping services, contact your local Pak Mail store.