Back to top
Furniture Shipping in San Rafael, CA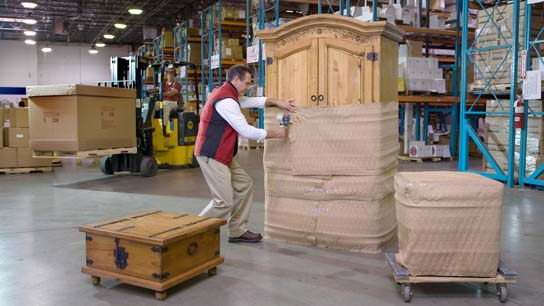 Pak Mail Furniture Shipping
At Pak Mail in San Rafael, CA, we offer professional and expert furniture shipping services to ensure that no matter what type of furniture you're shipping, it arrives safely and securely at its destination.
The furniture shipping professionals at Pak Mail in San Rafael, CA can help pack, crate, and ship all types of home or office furniture. Pak Mail offers:
Custom Furniture Crating
Expert Furniture Packing
Blanket Wrap Services
White Glove Delivery Available
Less-than-truckload (LTL) & Full truckload (FTL) shipping
Domestic & International furniture shipping
Pak Mail regularly ships:
Tables, Couches, Home & Office Chairs, Bedroom Sets
Dressers, Antique Furniture, TV Stands, Armoires, Grandfather Clocks
Pool Tables, Home Appliances, Pianos, Home & Office Décor
And Much More
Factors that Affect Furniture Shipping
The most critical things you should know are the delivery address, your furniture's weight and dimensions, its fragility, value, and the pick-up and delivery address. The best thing about Pak Mail is that you can customize your furniture shipping experience. Every individual has unique needs when shipping furniture, and Pak Mail in San Rafael, CA will work with you and your specific situation. Call your local Pak Mail or fill out an estimate request today for a personalized furniture shipping quote.
Why Pak Mail is the Best Option for You
Shipping furniture doesn't have to be a heavy burden or give you blues when you think of it. Find a Pak Mail Location Near You and trust the experts to handle it for you with ease. Our skilled specialists are eager to help you find the ideal solution for your furniture shipping needs, making the entire process easy and seamless. Discover what sets us apart and request your free quote today.
To ship furniture with Pak Mail, contact us today!
From Our Commercial & Small Business Customers
When Canfield Scientific needed a centralized freight management partner, Pak Mail fulfilled. From disassembly and custom packing to logistics and nationwide shipping, Pak Mail's custom freight services get Canfield Scientific's sensitive medical systems where they're needed most.