Back to top
Glass & Fine China Shipping in San Rafael, CA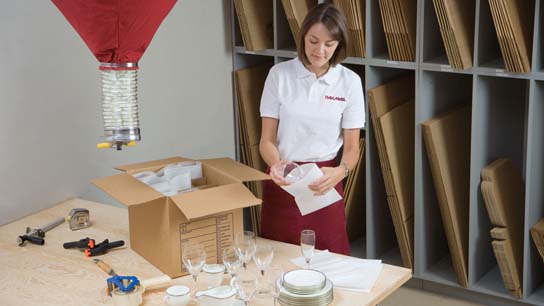 We'll Take Care of Shipping all your Fragile Items
Pak Mail San Rafael specializes in packaging and shipping very fragile items, including glass and china. We have very strict standards for how we pack and ship very fragile and valuable items.
We use a "double boxing" method for all fragile items, china, and glass. The outer box is intended to take the brunt of all handling, shock, and vibration effects while in transit. Our steps for double box packaging are:
Determine the number of pieces for each box. For example, a 12 place setting china set is divided into 3 to 4 place settings per box, plus additional boxes for service pieces.
Wrap each piece in bubble packaging.
Prepare and insert dividers, if needed. Dividers are typically used for delicate cups and glassware.
Float the wrapped pieces in packing peanuts in a box that provides 2 inches of space on all sides.
Floating the packed box in packing peanuts in a box that provides 2 inches of space on all sides.
Most moving companies use large boxes for packing dishes and glassware, but we prefer to use smaller boxes for ease of handling. Smaller boxes also result in lighter overall weight, which helps reduce the stress on the bottom pieces of the box.
If you have any fragile items, china, or glassware to transport, come see the experts at your local Pak Mail. We will safely pack and ship your china, crystal, glass, and any other fragile items.
Contact Pak Mail San Rafael Today
For more information about our china and glass shipping services, contact your local Pak Mail store.