Spring has arrived. The weather is warming up, baseball season is underway and before you know it, summer will be here. This is also the time of year to get your spring cleaning done. It's a chance to rejuvenate your house or apartment by reorganizing and getting rid of unnecessary items just taking up space.
Not sure where to start? Here are five tips to simplify your spring cleaning efforts.
1. Declutter
It's easy to just leave papers piled on a desk or shove old mail into a drawer. After a while though, the desk is a mess and the drawers are full of mail. Then, when the desk is a mess, you don't use it and when the drawers are full, items that should be in there end up scattered on counters and tables, creating a bigger mess.
Solution: Scan, recycle, shred or toss what you don't need. You can turn your paperwork into electronic files. For sensitive information, shred it and take the steps to discard them properly. Recycle old magazines and unneeded paperwork. Lastly, trash the trash. This will clear up your workspace and open up your drawers for items that actually belong in them.
2. Donate
Get in your bedroom and go through your closet. If you can't remember the last time you wore certain items, it's probably time to part ways. You can bring any new or lightly worn items to a clothing donation center.
This also goes for any unnecessary furniture or decorations laying around the house. Tired of looking at that old nightstand or lamp? Donate it. Someone else will be able to find some use for it and you'll clear up some room for those new additions you've been thinking about.
3. Ship It
Looking to keep certain things in the family? Perhaps your son or daughter is moving into a new place and could use that side table or nightstand that's taking up space in the garage. Get it out of your house and into good use by having it packed and shipped to your kid. You can feel better knowing you took something off their plate and also started the process of being able to fit both cars in the garage again!
4. Sell It
If you have clothes, furniture, appliances, or wall decor that you think could make you some extra cash, you can use sites like eBay or Craigslist to sell them. The results will be two-fold: You'll be cleaning out the house and putting some money in your pocket.
5. Clean
No matter how much decluttering and organizing you do, always make sure you give your home a good scrub afterwards. It'll provide that perfect finishing touch to a successful spring clean.
At Pak Mail, we can pack and ship anything, anywhere – across town, across the country or around the world. With 30+ years of experience, we've earned a reputation as an expert custom packer and shipper of furniture and household items. We provide the widest range of shipping options to domestic and international destinations by truck, boat, or plane.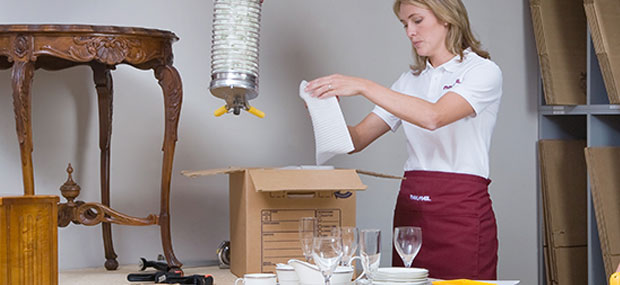 Submitted by PakMail on