Have you ever looked around your house or apartment and thought it needed something? It didn't have to be a full renovation or makeover. Maybe it's as simple as hanging something new on the wall or adding an accent piece to complement your furniture. If this sounds like a conversation you've had in your head, consider checking out Old Glory Antiques in Denver for one-of-a-kind accessories to give your home that missing puzzle piece it needs.
Located on South Broadway in Denver, Old Glory Antiques features an elegantly laid out warehouse shop, staged beautifully to spark the best of home decor ideas. The store brings new and unique pieces each week so that the selection never gets old and customers can find something new each time they stop by.
A hallmark of the shop is "We believe in creating beautiful, comfortable and personal spaces." Whether you're looking for wall art, accent furniture, dressers, side tables, ornaments or decorative accessories, chances are you can find it at Old Glory. You can even check out what's new at the shop by checking out their website at oldglorystyle.com.
If you ever find something in the shop that you know an out-of-town friend or family member would love, you can bring it to Pak Mail on University Ave in Denver to have it packed and shipped to its destination. The logistics professionals at Pak Mail will be able to expertly pack and ship your antiques and even compare rates to find the best shipping service to fit your needs.
Location
Old Glory Antiques
1930 South Broadway
Denver, CO 80210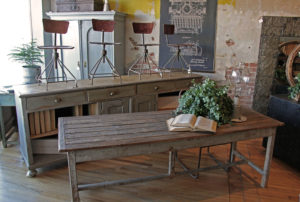 (Source: Old Glory Antiques Website)
With 88% of the private companies in the U.S. employing 19 or fewer employees (Source: U.S. SBA), we at Pak Mail believe local businesses are vital to the health of the U.S. economy. Therefore, Pak Mail is pleased to feature Old Glory Antiques as our Featured Local Neighborhood Business and encourages locals to buy from local businesses.
Submitted by PakMail on