If there's one thing you don't want to do during the holiday season, it's procrastinate on your shopping and shipping duties. While carriers like FedEx and UPS tend to remain pretty reliable, a number of things can pop up – inclement weather, higher-than-expected volume, and other unforeseen issues – that can lead to delayed packages and a very disappointing holiday season. We here at Pak Mail know that life can sometimes get in the way, leading to the delayed shipping of your gifts. Follow these guidelines to ensure your packages get where they need to be when they need to get there.
Know Your Deadlines
With every passing day between Black Friday and Christmas, the window for getting your packages out on time gets smaller and smaller. Shipping volume is increasing year over year, with 2015 expected to see close to one billion packages moved just between UPS and FedEx. In fact, UPS is expecting 36 million packages to be delivered on December 22nd alone. In addition, the later you wait, the more expensive your shipping will be. Follow the calendar below, prepared by Pak Mail shipping experts, to know the exact dates by when you should ship out your packages within this narrow window of time. Our experts will also help determine the proper packing and carrier for your individual needs.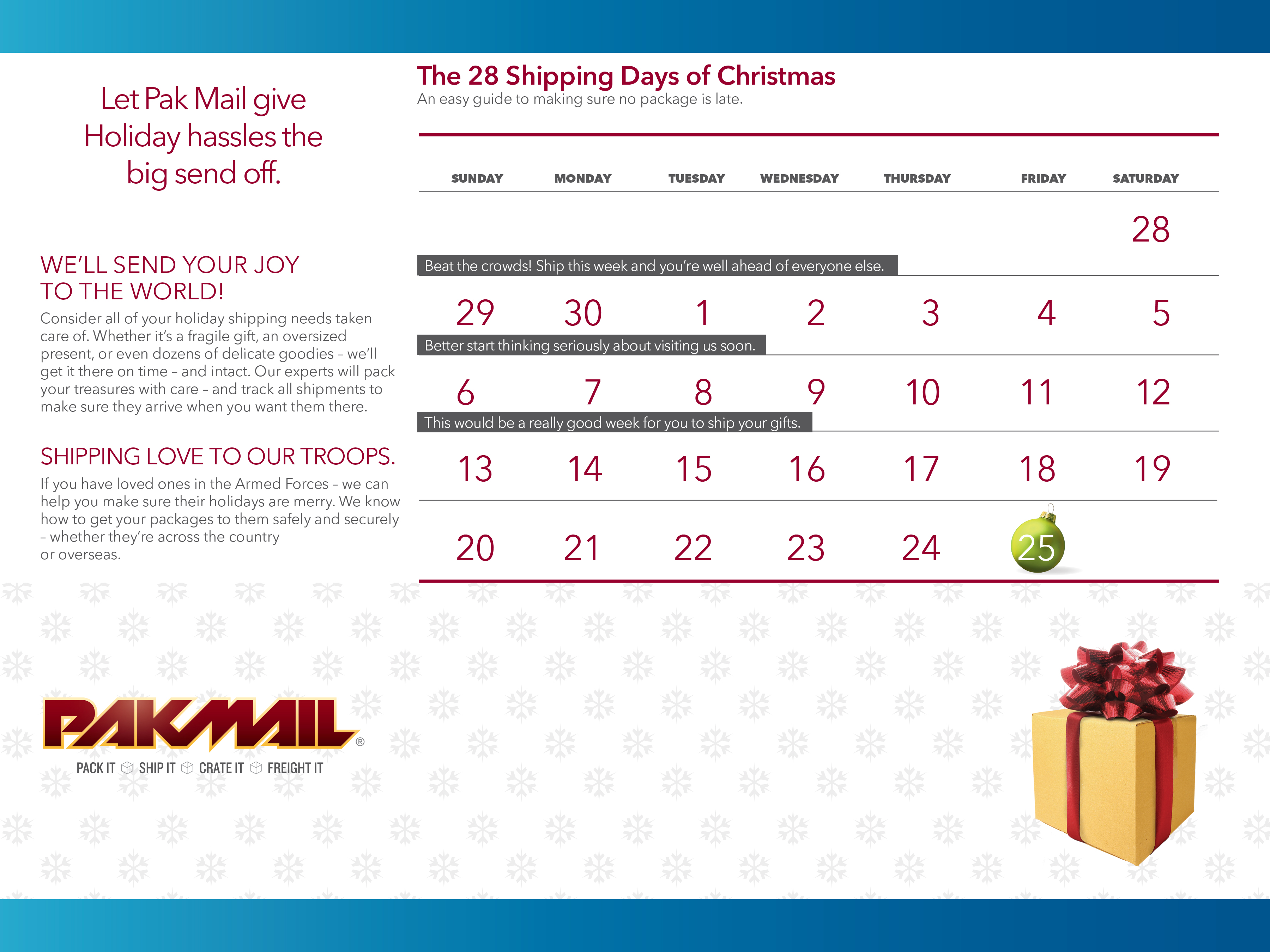 Package Your Items With Care
When you're competing with millions of other boxes, it's not uncommon to worry about your package arriving with no damage. Snow, ice, and the inevitable rumbling and tumbling in the back of a truck or in the cargo hold of a plane can lead to damaged items. To help ensure this doesn't happen, consider the following before shipping: • Every package should have an inner and outer box. This means the item itself should be in one box, then that box should be in the primary shipping box. Use sturdy cardboard boxes like those found at Pak Mail. • Wrap your items tight. If they're fragile, such as glass, you should wrap them tightly in something protective like bubble wrap. Place them in the interior box, then use additional padding around it to protect it from moving around inside the primary shipping container. When lifted or shaken slightly, there should be no movement heard or felt from within. • Use nylon or plastic tape to seal your box. Use multiple layers of tape to ensure movement or weather doesn't affect it. Always make sure both boxes are sealed properly. • Use a clean box with no exterior markings to prevent confusion among the package handlers. Write the address clearly and legibly on the outside of the box. If possible print it out, center on the top of the box, and cover with a layer of plastic tape to protect it. Need some assistance? Pak Mail's packing experts can help package your items in your local Pak Mail store. Have an awkward, large, heavy, or fragile item? Our custom crating experts can help with that, too!
Declare a Value for Your Shipment
In the rare event that your package is either lost or damaged, it's always good to have Declared Value Coverage on everything you send. This is not insurance, but rather a way to raise the financial liability of the carrier. At Pak Mail, you can add declared value coverage to domestic (up to $50,000) and international shipments (up to $25,000). There are a few things to know when declaring value coverage: 1. If you don't declare a value at the point of shipment, the default value is zero. 2. It does not provide door-to-door coverage. This means that once it's out of the carrier's hands, the declared value no longer applies. 3. The burden of proof is on the shipper. For the claim to be valid, the shipper must prove the loss or damage was caused by the carrier's negligence. Packing and shipping during the holidays can be a headache, but it doesn't have to be. That's why Pak Mail is here to handle all your packing and shipping needs. Visit your local Pak Mail and speak to one of our experts today.
Submitted by PakMail on