Back to top
Auction Shipping with Pak Mail in Mount Pleasant, SC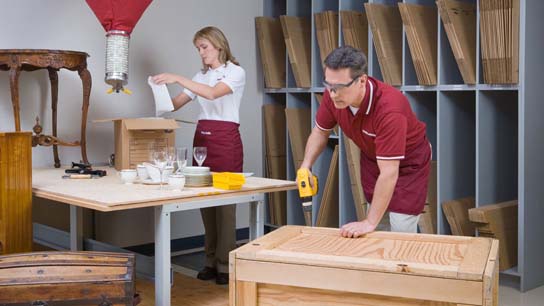 As the auction industry grows, the need for high-quality shipping services becomes more apparent. Today, people regularly bid for items through online auction services and have them delivered right to their doorsteps, thanks to online auction shipping and delivery services, as well as preferred shipping vendors. However, most people don't have the best idea to get their items home.
How can Pak Mail Shipping Service Help?
With over 200 locations across the U.S., you can rest assured that Pak Mail can pick up your auction items and ship them to the destination of your choosing. Pak Mail also offers top-notch packing and crating services to ensure all your items are safe for transportation. Our packing and crating solutions include boxes, custom crates, bubble packaging, and custom corrugated containers.
Finally, Pak Mail shipping experts can answer any questions about your auction item and provide tracking information once the item has shipped. Whether you've won an auction bid overseas or domestically, we are ready to help you get your prized item to your doorstep.
What Kind of Auction Items Can Pak Mail Help You Ship?
At Pak Mail, we can help you ship all sorts of auction items. Here's a breakdown of some of the things that we can help you ship:
Estate Auctions
Have you won an auction for a large antique headboard or a 200-pound dresser? Pak Mail can arrange to pick up any estate auction item from the auction location, bring it to one of our warehouses for packing, and ship it to your preferred destination.
Online Auction
Technological evolution has made it possible to hold online auctions from the comfort of your home. A buyer can bid on any item from an auction, held a thousand miles away, or in a different time zone. A local Pak Mail can pick up your items and ship them to your destination, whether you need domestic or international shipping.
Art Auction
Art auctions are among the best places to get unique artwork to add to your collection. At Pak Mail, we offer specialty packing and shipping that keep your art safe and secure during transport. We also offer expedited auction shipping options to cut down your shipping time frame.
The Benefits of Auction Shipping with Pak Mail
Here are some of the reasons why you should ship your auction items with Pak Mail:
We help you compare shipping prices with top shipping carriers like FedEx, DHL, UPS, and USPS, as well as many top national and regional freight carriers.
We offer coverage for most items through our Declared Value Coverage option.
We offer custom crating and auction shipping solutions for heavy and oversized fragile items, including industrial equipment and machinery. We also offer special packing options for items that don't fit perfectly in standard boxes.
We care about the environment through our convenient location to recycle packing fills or peanuts.
We offer personal mailbox rentals where you can always have your online auction items delivered.
Who Do We Serve?
We serve everyone, including:
Small business owners
Large enterprises
Individuals
Auction sellers
Collectors
And more
Ship Your Auction Items with Pak Mail Today
Are you considering attending an auction and don't know how to transport your item? For more information about our services, find a Pak Mail location near you or fill out our freight estimate to learn how much it will cost to ship your auction item.
Pak Mail Park West is Your Leader in Logistics Solutions for packing and shipping all auction items bought and sold. We understand online auction shipping. Around the world and across the Web, buyers and sellers trust Pak Mail to carefully pack and ship priceless, sentimental, one-of-a-kind, and everyday items by air, ground, and ocean.
We provide crating and shipping solutions for everything from industrial items to fragile art and antiques, and provide you with 30 years of trusted expertise on all items we pack, crate, and ship. We provide pre-auction estimates to help buyers determine the delivered cost of items they are interested in bidding on, including artwork, sculptures, sound equipment, IT equipment, estates, and automobiles. We are the shipping solution for commercial and non-commercial auction house freight shipping worldwide by land, sea, and air.
We leverage the collective experience and resources of our 500+ worldwide locations to help online and traditional auction businesses receive 100 percent positive packing and shipping feedback from their buyers. How do we do it?
We serve as a single online auction packing and shipping provider, as well as a receiving department.
We provide a wealth of Internet-based resources, including an online Store Locator, Estimator, and Package Tracker.
We offer local pickup for large, single, bulk, multi-weight, and recurring shipments.
Whether you're an individual or an auction house, we offer packing, crating, and shipping options to meet your needs. To inquire about custom crating for your auction items, contact Pak Mail today!
From Our Commercial & Small Business Customers
When Canfield Scientific needed a centralized freight management partner, Pak Mail fulfilled. From disassembly and custom packing to logistics and nationwide shipping, Pak Mail's custom freight services get Canfield Scientific's sensitive medical systems where they're needed most.