Back to top
Furniture Shipping in Mount Pleasant, SC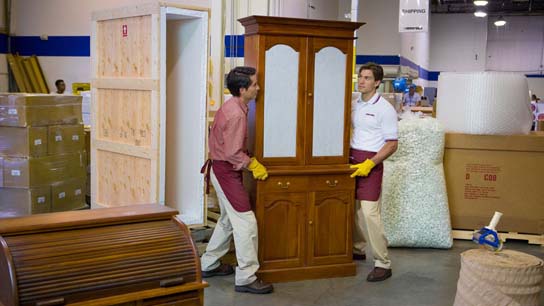 Big, Heavy, Awkwardly Shaped -- Not a Problem
Pak Mail Park West has been shipping furniture around the country and around the world for over 30 years. Mattresses, tables, bedroom sets, couches, pianos, appliances, pool tables -- you name it, we've shipped it. That's why we are widely recognized as the leaders in reliable furniture shipping. We provide pick-up and on-site packing services for your items, and offer packing and shipping options individualized to meet each furniture piece's shipping requirement.
No item is too big, too heavy, or too small. We pick up, pack, crate, and ship everything from single items to entire households. We pack and ship offices full of furniture and pallets piled high with furniture. We can guarantee our furniture shipping because we have no size, weight, or piece limits. Do you have a furniture shipping challenge? We've got the right furniture shipping solution for you.
So whether you're shipping furniture across town, across the country, or across the globe, we'll utilize our trusted air, ground, and ocean carrier partners to make sure it gets where it's going in perfect condition. When we say we can ship "anything, anywhere," we mean it!
Contact Pak Mail Park West Today
To ship furniture with Pak Mail, contact us today!